Upcoming Events
Awareness events & Fundraisers
Central Indiana K9 Association is devoted to providing financial medical assistance for active and retired dogs, a central Indiana located training facility for active dogs, and the creation of a working dog memorial.
Several Opportunities | Fundraising
Claus for Paws 2022
BREAKFAST AND PET PHOTOS WITH SANTA!
Bring joy to the eyes of kiddos with a visit to Santa this month! CIK9 is excited to invite you to any of 6 Claus for Paws events where your humans (kids, moms, dads, grandparents, and others) can explain exactly what they want under the tree this year. You can even bring your pups and pets to Pet Supplies Plus on Dec 4 and 17! Not sure Santa will understand your pet's language, but he will try! $10 per picture and all proceeds go to training for area law enforcement K9 teams! Enjoy Santa and support the CIK9 mission!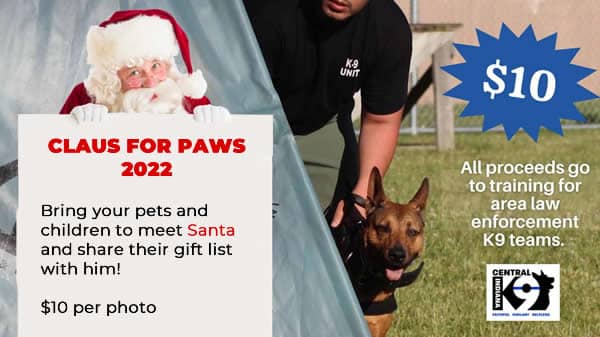 Dec. 3 – The Breakfast Co. in Brownsburg (830a US Hwy 136) -10 am – 1 pm.
Dec. 4 – Pet Supplies Plus in Brownsburg (931 N Green St) – noon – 3 pm
Dec. 10 – Ricky's Pancake House in Pittsboro (12 E Main St) – 9 am to noon
Dec. 11 – Ricky's Pancake House in Pittsboro (12 E Main St) – 9 am to noon
Dec. 17 – Pet Supplies Plus in Brownsburg (931 N Green St) – noon – 3 pm
Dec. 18 – Hendricks County Bank & Trust – 1649 E Main St., Plainfield – 1 – 3 PM