Upcoming Events
Training and Fundraisers
Central Indiana K9 Association is devoted to providing financial medical assistance for active and retired dogs, a central Indiana located training facility for active dogs, and the creation of a working dog memorial.
May 21, 2022 | Fundraiser
Zionsville Annual Youth Bike-a-thon
FREE     Donate       
Date And Time
Sat, May 21, 2022
10:00 AM – 12:00 PM EDT
Location
1100 W Oak St
Rail Trail – Zionsville Townhall Entrance
Zionsville, IN 46077
Register
To attend this event with correct number of attendees including adults & children.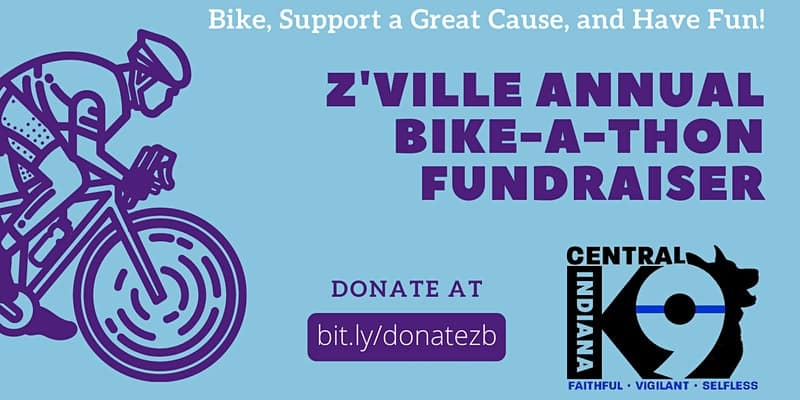 Zionsville Youth Bike-a-Thon began in 2020 as an individual endeavor to support local charities and maintain good health during the pandemic.
Children and adults have joined together to bike, raise awareness and money for local charities. In last couple of years, we have supported Boone County Humane Society and Zionsville Fire Department.
This year, we have chosen Central Indiana K9 Association, and hope to raise $5,000. Central Indiana K9 Association provides training, care, love, and much more for service dogs that have served our veterans and law enforcement professionals.
Sept 25 – 29, 2022 | Training
Hamilton County Sheriff's Office Bloodhound Seminar
LOCATION
Hamilton County Sheriff's Office
Indiana Diabetes Youth Camp
5050 E 211th St, Noblesville, IN 46062
COST: $200 (20 working spots) – includes all meals
40 hours of class and field work including scenario-based problems from instructors with 140 years of combined experience. Topics to include legal, medical and man trailing.
REGISTER
Contact Neal Hoard at [email protected] for registration form. Once registration is completed and received you will be notified of acceptance by August 1st, 2022. Do not send fees until notified of acceptance.