CENTRAL INDIANA K9 ASSOCIATION, INC
faithful
vigilant  selfless
When a working dog is retired from duty, they remain faithful.
Medical costs from unexpected injuries, disease, or illness shouldn't stop us from being faithful to them.  The Shadow Fund is a medical grant program to benefit the retired working military and police dog.
faithful
vigilant 

selfless
To remain at the top of their game, these highly specialized partners need to stay fresh and are trained daily.
Their human partners create innovative ways to maintain their fitness and their abilities, often driving for hours, then setting up, training, tearing down, and driving home.  
We want to help the officers help their partners by providing training opportunities, and a centrally located training facility.  
faithful
vigilant 

selfless
There is no greater gift than one who lays down his life for another. 
Every bit the soldier and officer, these K9s will be remembered in loving tribute with a War Dog Monument, and are eligible for a memorial service with all expenses paid, and a full honor service.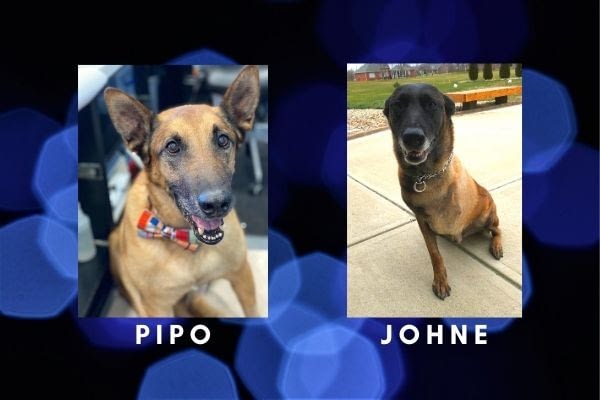 Within months of first starting our organization, we had raised $1,500 to ensure that we would be positioned to assist...
K9 SPOTLIGHT
There are special K9 officers in our midst who are presented for your appreciation – whether they are new to an agency, have been injured, have received recognition, are retired, or have been killed in the line of duty.
We hope you'll take a moment to read about this featured K9.  Simply click the photo to read their unique story!
Unexpected facts about these amazing canines!
• Iraq and Afghanistan have approximately 1200 dog teams in action at one time.
• Lackland Air Force Base is the only facility in the US to train military canines.
• Police dogs have been trained to detect thumb-drives and other electronics.
• A Police dog can smell a human buried up to 12 feet underground.
• Military and Police dogs can suffer from PTSD.
 • A dog's nose is so sensitive it could detect a teaspoon of sugar in a MILLION gallons of water!
IED detection by canines – 80%

MWD (Military Working Dogs) who are non-commissioned officers

Over 90% of retired mwd are adopted by their handlers

Dogs who complete training – 50%
Let's DO SOMETHING GOOD TOGETHER!

Say Hello!
Drop us a line – we'd love to connect with you, whether you have a question, a suggestion, or something to share.  We're here for you