Mar 11-13 2024 | Training
Muzzle Seminar
Click HERE for seminar flyer
TRAINER: Jim O'Brien, NC K9 LLC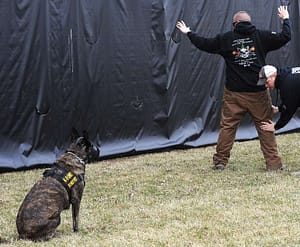 TRAINING  The World of Muzzle and Problem Solving
HOST  CIK9
LOCATION
TBD
TIME  1-8 pm (lunch provided)
COST  $100 Working Spot (limited to 15)
$50 Audit spot (unlimited)
TOPICS 
This 3-day seminar will detail the process of conditioning the dog to the muzzle and working muzzle in all aspects of patrol work including detection and tracking.  K9s will learn that the muzzle is no different than its collar, as part of the daily attire.  This course will benefit those who have not used a muzzle at all as well as those who are already conditioned to work their dogs in a muzzle.  We'll be covering from basic to advanced techniques in the utilization of the muzzle. 
Required equipment:  Properly fitted muzzle, toy reward, food reward, long line and anything else utilized on deployments.
Questions
Training/general inquiries:  Nate Hibschman  training@cik9.org 
Registration questions: Carol Battistini  acctg@cik9.org
Central Indiana K9 Association should be your first stop when searching for training opportunities.  In addition to quarterly training events for Central Indiana, we are thrilled to share other statewide training events.