Diverse in occupation and experience, yet unified by our passion, purpose, and mission.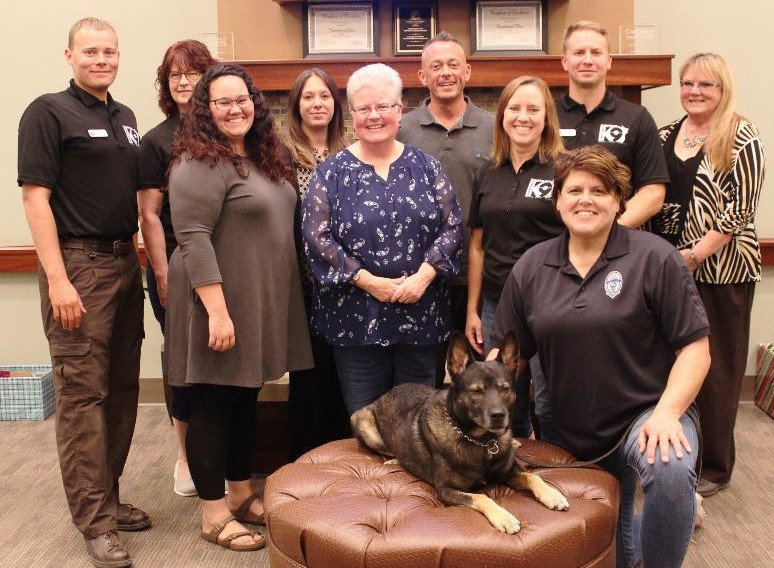 (back row L-R) 
Nate Hibschman, Carol Battistini, Beth Patterson, Kyle Schaefer, Tom Owens, Kathy Spangler
(front row L-R)
Allison Davids, Theresa Brandon, Angela Christner, Kim Kiritschenko and K9 Zeus
Theresa M Brandon, MBA
Chair
email: info@cik9.org
US Department of Labor, retired
Theresa has extensive non-profit experience with several years of service on various Boards of Directors:  National Board of Directors, for Women in Management, Inc., she was the Founder and Past Chair of the Cedar Hill Pet Memorial Project, Inc. in Texas, and with the Greater Dallas Military Foundation's Board of Trustees.  She has worked with Police and Fire Department personnel in Texas when she built a War Dog Monument and helped to launch a Shadow Fund in 2014 and 2016, respectively.  Early in 2019, she helped to create the Central Indiana K9 Association, Inc., and serves as the Chair.  After 24+ years of federal service, which includes 9 years as a US Marine from 1980 to 1989, Theresa is a decorated and disabled veteran and her last rank was as a Sergeant.
While Theresa and her husband Clark have had several rescues over the years, pictured here is Daisy Mae, a bone-faced Sharpei who, despite her happy face, was our fearless protector and a great watch dog.  Nobody messed with her!
Beth Patterson
Director of Public Relations
email: pr@cik9.org
Beth Patterson Design
Beth is an artist, graphic designer, writer, and consultant with a vision for helping people turn their ideas into reality. The owner of Beth Patterson Design, she utilizes her 14 years of experience to develop and refine brands and breathe new life into marketing strategies.

As a passionate pet owner, Beth has a strong desire to use her talents to assist organizations that are concerned with the health and safety of animals. Combining her love for dogs with her marketing and design skills, Beth serves as CIK9's Director of Public Relations. She is also a member of the fundraising committee for an Indiana-based Golden Retriever rescue group.

  Pictured here is her dog, Riley.
When not working, Beth enjoys photography, spending time with her twin sister, and outdoor activities with her Golden Retriever and Long-haired German Shepherd.
Kathy Spangler
Fundraising Director
Assistant Vice President, Old National Bank
Kathy has been in community banking for over 29 years. Kathy co-chairs the Ace committee for Old National Bank Indy market.  Kathy serves as the Fundraising Director for Central Indiana K-9 Association, as well on several other community-based organizations:  Treasurer for Westside Professional Women, Board member for Avon Chamber, Avon Education Foundation and Jameson Camp. Kathy Spangler is a volunteer for Avon PD Night Out Against Crime, Gleaners Food Bank, Seeds of Hope and Military Veterans Resource Group.
Kim Kiritschenko
Police Liaison (non-voting)
Officer, Brownsburg Police Department
Kim has been an Officer with the Brownsburg Community School Corporation for 8 years. She is also a Sergeant with the Brownsburg Police Department and leads their Reserve Division. Officer K enjoys working as a school resource officer and serves as a valuable mentor for area juveniles. She teaches local students and parents about the importance of internet safety and is a valuable and approachable presence within the community. She may be best known for her K9 partner Zeus who has even made it in to the local high school yearbook as a staff member.  K9 Zeus is an 8-year-old Belgian Malinois German Shepherd mix, is certified in narcotics detection and has assisted multiple agencies both local and federal in the search and seizure of illegal drugs and have resulted in numerous convictions of drug dealers. 
Nathan Hibschman
Historian/Photographer
Deputy, HC Sheriff's Department

Nathan is a K9 Handler and Trainer with the Hendricks County Sheriff's Department.  He is a graduate of IUPUI where he obtained a BA in Economics with a minor in History from Indiana University.  In 2008, Nathan started as a reserve with the Hendricks County Sheriff's Department and was later hired full time in 2012.  In 2015, Nathan was partnered with K9 Edo who at the time was an 18-month-old German Shepherd/Belgian Malinois mix.  Edo was born in Slovakia and came to the Sheriff's Department as an untrained dog.  Since then Nathan and Edo have completed both narcotics detection and patrol school making Edo one of four dual-purpose K9s currently with the department.
Kyle Schaefer
Vice Chair
Corporal, HC Sheriff's Department
Kyle is a Corporal with the Hendricks County Sheriff's Office and currently assigned to the Enforcement Division.  He is a graduate of Indiana University with a degree in Criminal Justice and also a graduate of the Indiana University Police Department Cadet program earning his ILEA certification in 1993.  He has over 10 years' experience as a K9 Handler and trainer and currently working with Bak, an 8-year-old Belgian Malinois.
Carol Battistini, CPA
Treasurer
 email: acctg@cik9.org
With her husband Peter, Carol has lived in Avon since 1994.  Carol's professional career included controller for Olive LLP, controller and chief operating officer for Locke Reynolds LLP and practice services administrator for Frost Brown Todd LLC.  Since retiring in 2013, she volunteers with Hendricks County Humane Society to include serving on its board of directors.  Carol also volunteers with the Hendricks County Historical Museum. Pictured here is their coonhound mix Claire:  this was her first day with us a year ago!
Angela Christner
Recording Secretary
HR Business Partner, FedEx Ground
Angela does not work in law enforcement and has never been on a Board of Directors.  When Angela learned about the Central Indiana K9 Association, Inc., she told Theresa Brandon, "You had me at dogs!"  Angela has been with FedEx for 17 years and is currently an HR Business Partner at the FedEx Ground operating company.  Angela works with her husband as a real estate agent.  She also gives back to the community by working with organizations such as Gleaners Food Bank, Keeping Indianapolis Beautiful, and BOSMA Enterprises.  Angela has two dogs named Macy (white dog) and Sofie (black dog).
Allison Davids
Volunteer Coordinator
email: volunteer@cik9.org
Paralegal, Boone County Prosecutors office
Known to get overly excited about K9s, Allison joined our Board of Directors with the pure passion of helping the paws who enforce laws. Allison is a graduate of Indiana University with a Master of Science in Criminal Justice and Public Safety and Marian University with a Bachelor of Science in Psychology. When Allison isn't serving in the interest of the board, she works full time at the Boone County Prosecutors Office as a Paralegal specializing in drug task force and firearm cases. Other hobbies include reading criminal justice research and novels, kayaking, and spending time with her soon-to-be 6-year-old mutt named Jax.
When asked why she believes in this organization she replied, "As the number of canines in Central Indiana increases, it becomes glaringly important that our duty is to provide resources, such as, a training facility and retirement financial assistance to the canines."
Tom Owens
K9 Training Director
Sergeant, Avon Police Department
Tom is currently assigned as a Sergeant at the Avon Police Department as supervisor of night shift and the canine division. He has worked in law enforcement since high school starting out as a community service officer, then dispatcher and reserve officer before spending the last 15 years full-time. He has 10 years' experience as a canine handler and recently trainer. His current partner, Nero, is a 6-year-old coated German Shepherd Dog. Nero is certified as a dual-purpose narcotics and patrol dog. Owens assists in the training of approximately 15 police dog teams in the Hendricks County area and serves as Canine Trainer for the Central Indiana K9 Association.