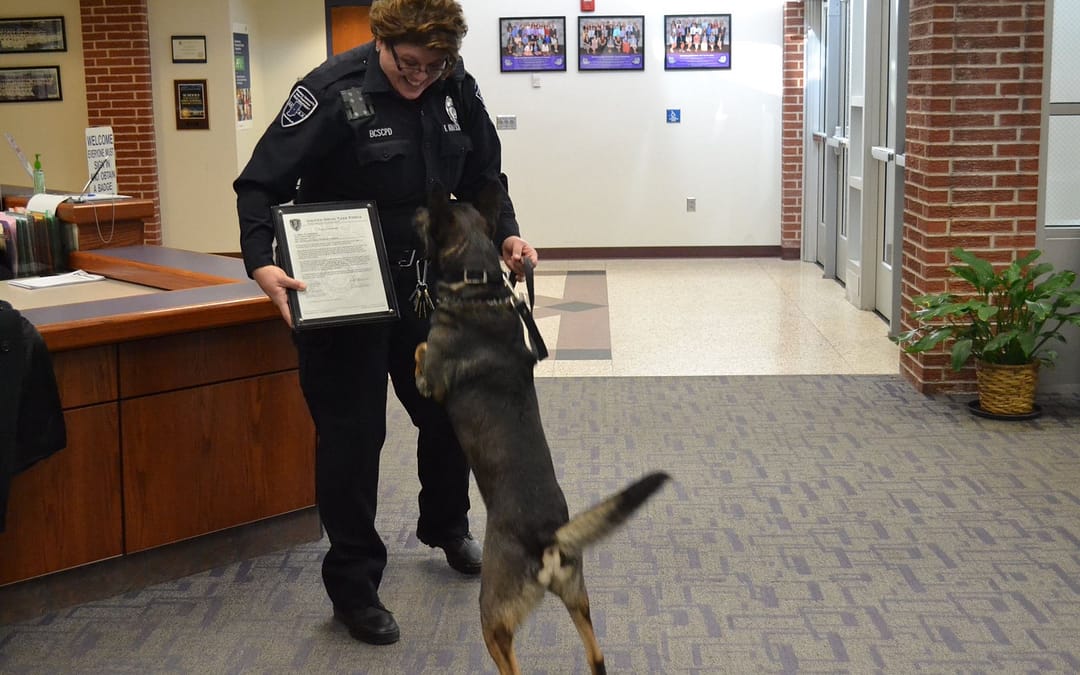 Every day is the same for him. Same car, same words, same surroundings. You would think that with all of the routine it wouldn't be exciting anymore. You would think that staying in an air-conditioned car would be more comfortable, but that has never been the case. You see…this is his school, these are all his schools. He takes great pride in making sure each one of them is safe and drug-free.
As soon as I open the car door he knows where we are and what his job is. We walk in the door and he turns to me, with excitement in his eyes, he is ready to hear me say: "Are you in your school?" He knows this is his school, he knows the staff and students want him here, but most importantly he knows what his job is, and is highly trained for it. It is what he lives for!
In the spring of 2013, Brownsburg Community School Corporation made history by being the 1 st school district in the state of Indiana to have a full time, narcotics detection K9 on campus. Students have been taught at an early age to "Say No to Drugs," but as they get older their social circle gets larger and they may test the waters of independence. With these changes come exposures to new situations which then brings additional challenges. Brownsburg Schools wanted to invest in the safety of their staff and students but also wanted to give students just one more reason to be able to say "NO!" to drugs. That investment would become my K9 partner, Zeus.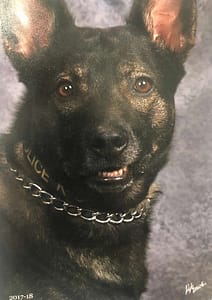 Zeus was introduced to staff and students in May of 2013. If you walk the halls of any Brownsburg school with Zeus and me, you will see how welcome he is. There are always several kids calling his name and many more kids saying "Awe!!" and countless smiles when they see him.
Zeus is so much a part of the culture and environment of Brownsburg High School that his picture was placed in the staff section of the yearbook and many staff members keep dog treats at their desk so when Zeus gets a break he can go to them for a treat.
K9 Officers spend a lot of time in training. At first, it was Zeus that needed the training but I quickly learned that the more challenging student is always the one at the other end of the leash. I was the one who needed to watch for the subtle changes in his body language, the head throw at the mere whiff of a scent that was exiting a closed car door or the passing odor emanating from a backpack in the hallway. Once I was trained though, we were a great team!
I often wonder how empty my patrol vehicle would be without Zeus. There are nose prints on my windows, dog hair throughout the entire car and after several lessons learned, I always store my lunch bag in the trunk. There are times when I look down at my uniform and see spots of dog slobber or smudges from dirty paws. There are also times when he rests his head on my shoulder and looks up at me like I am his whole world. Those are the moments that I live for.
In Brownsburg, we are all proud to be a Bulldog! We are #BulldogTough and #BulldogProud, but no matter how much of a true Bulldog fan I am, Zeus will always be my #TopDog.
~Officer Kim Kiritschenko